FeverMates 3-Ply Reusable, Washable Cloth Face Mask | Middle-Fold Designer Style
3-Ply Reusable, Washable Cloth Face Mask | Middle-Fold Designer Style
FeverMates 3-Ply Cloth Face Mask is a high quality WHO adherent and ultra-soft designer fabric mask made with 3 layers, cotton inners and a separate outer printed polyester layer.
FeverMates fashionable and easy to wear cloth face covering are washable and reusable and importantly are breathable, which makes them great to wear for long periods.

FEATURES

100% Cotton inner with outer polyester layer
3 layers
Washable/reusable 

Soft and breathable
Adjustable ear loops
Meets WHO & CDC Guidelines
Sewn edge makes the mask durable and easy to take off and on
Machine wash warm and tumble dry low
Mask customisation including company logos, custom print and colours is available in orders over 50 units.

For bulk orders of FeverMates 3-Ply Cloth Face Masks or any of our Personal Protective Equipment (PPE) or Hygiene Products, please email info@fevermates.com
Our face masks are not medical-grade but are a practical and affordable way to help contain respiratory droplets and micron particles and help protect the environment through re-use. Read our Legal disclaimer below. Masks sold on Handband/FeverMates are for general public use only and are not intended for use in medical settings.

Not for children age 3 and under.
Mask images may vary due to sewing and loop placement.  Colours may vary between computer screens.  Masks are fitted with pleats to allow comfort and better fit.  On some faces, the image may vary to that displayed on screen.  Please allow for this variance.
Wear your Face Covering Correctly
Wash your hands with soap and water before putting on your face covering 
Put it over your nose and mouth and secure it under your chin
Try to fit it snugly against the sides of your face
Make sure you can breathe easily
Do not add chemicals or disinfectants directly to this product (test first for colour fastness & suitability - see directions below)

If skin irritation occurs stop using the mask immediately and consult your primary care provider.
How to clean

Washing machine
You can include your face covering with your regular laundry.
Use regular laundry detergent and the warmest appropriate water setting for the cloth used to make the face covering.

Washing by hand

Prepare a bleach solution by mixing (test first for colour fastness & suitability on a small area of the printed mask - repeated washing this way may fade your printed design)
5 tablespoons (1/3rd cup) household bleach per 3.8 litres of room temperature water or
4 teaspoons household bleach per 4 cups of room temperature water
Check the label to see if your bleach is intended for disinfection. Some bleach products, such as those designed for safe use on coloured clothing, may not be suitable for disinfection.
Ensure the bleach product is not past its expiration date. Never mix household bleach with ammonia or any other cleanser.
Soak the face-covering in the bleach solution for 5 minutes.
Rinse thoroughly with cool or room temperature water.
Make sure to completely dry cloth face-covering after washing.
How to dry

Air dry
Lay flat and allow to completely dry. If possible, place the cloth face-covering in direct sunlight.
Important
You must not rely on the information on this site as an alternative to medical advice from your medical physician or other qualified healthcare providers. Consult your healthcare provider immediately if you think that you may have a medical emergency or for the diagnosis and treatment of injuries. Always seek the advice of your physician or other qualified healthcare providers before starting any new treatment or with any questions that you may have regarding a medical condition or injury.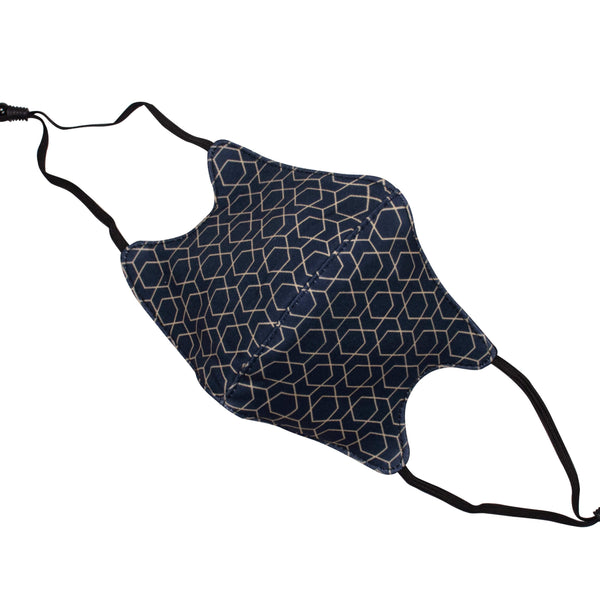 Customer Reviews
100
reviewers would recommend this product
Write a Review
Ask a Question
I recommend this product
So far so good
Washed and wear over a week, still in shape and feel comfortable on the ears, no strain and pain to wear whole day. The size is good to cover the nose, mouth and lower part of face, which makes me feel safe, like if you are going to wear a mask, wear it properly or don't wear it at all.
23 Sep 2021
Anonymous

Australia
I recommend this product
Great loved them.
Great quality quick delivery delighted to support local business.