Large Leisure First-Aid Kit | St John Ambulance
Large Leisure Kit - St John
The complete first aid kit, ideal for 6 or more people
The St John Large Leisure Kit is the complete solution for common and more serious injuries in the home and or at leisure.
Includes products for treating serious injuries resulting in major trauma and heavy bleeding.
This Large Leisure Kit is contained in a durable black bag with pockets for additional first aid equipment for your needs.
Therapeutic Goods Authority approved.
Product tested by 10,000 Australian volunteers each year.
A shelf life of 1-3 years
Dimensions: 260mm x 180mm x 130mm 
Features:
2 x St John Bag Specimen Biohazard
2 x St John Bandage Crepe 10cm
1 x St John Bandage Crepe 5cm
2 x St John Bandage Crepe 7.5cm
2 x St John Bandage Triangular 110cm
1 x St John Blanket Emergency Accident
1 x St John Cold Pack Instant
2 x St John Dressing Combine 10cm x 10cm
2 x St John Dressing Combine 10cm x 20cm
2 x St John Dressing Non-Adherent 7.5cm x 10cm
2 x St John Dressing Non-Adherent 5cm x 5cm
5 x St John Dressing Island Adhesive 8.3cm x 6cm
1 x St John Dressing Length Adhesive 6cm x 1m
1 x St John Dressing Universal 43cm x 20cm
1 x St John Face Shield CPR Without Valve
5 x St John Gloves Nitrile Large 2s
2 x St John Pad Eye
1 x St John Strips Adhesive Fabric 50s
1 x St John Strips Adhesive Plastic 50s
3 x St John Swabs Gauze 7.5cm x 7.5cm 3s
1 x St John Tape Hypoallergenic 2.5cm x 9m
1 x St John Tape Zinc Oxide 2.5cm x 5m
1 x Forceps Sharp Stainless Steel 12.5cm
1 x Pins Safety Assorted 12s
1 x Probes Splinter 5s
2 x Sachet Itch Relief 1g 5s
4 x Sachet Sunscreen
10 x Saline Eye and Wound Irrigation 15mL
1 x Scissors Sharp-Blunt Stainless Steel 12.5cm
1 x Shears Universal
1 x Swabs Alcohol 10s
1 x Swabs Antiseptic 10s
1 x St John Emergency First Aid A Quick Guide
1 x St John Notepad and Pencil
Product is entered in the ARTG, ARTG 316822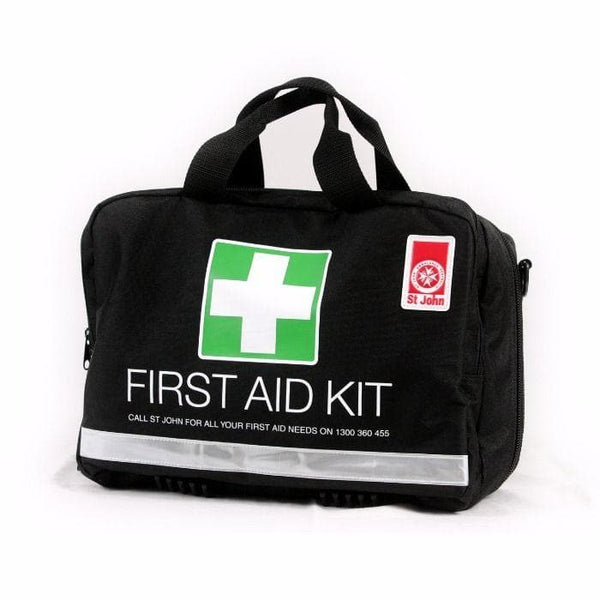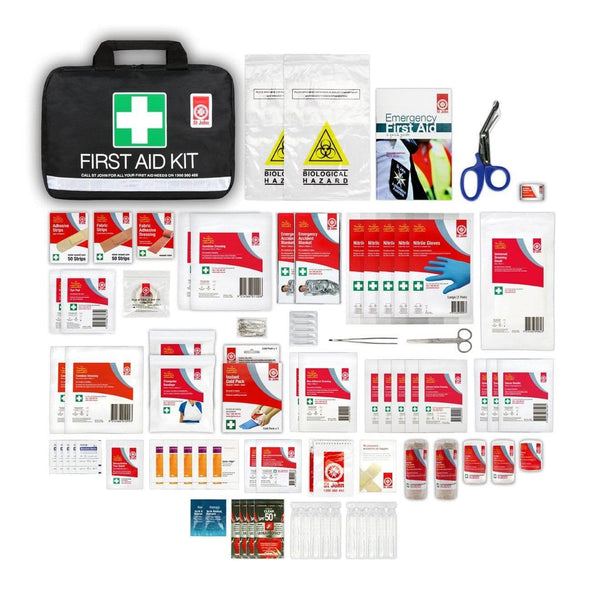 Customer Reviews
Write a Review
Ask a Question
18 Oct 2020
Anonymous

Australia
I recommend this product
Great service, great selection
Easy to find what I needed and great choice of products