St John First Aid Kit (National Workplace Kit Wallmount)
St John Workplace Wallmount - the complete first aid station
Prepare your workplace for any emergencies or injuries with this metal cabinet wallmount.
This new kit is developed in accordance with the new National Code of Practice 'First Aid in the Workplace'.
This powder-coated, rustproof metal cabinet contains several compartments ensuring easy access and location of first aid equipment in an emergency
All items within this kit are of the highest standard, from stainless steel scissors to cotton slings, St John First Aid Kits are TGA compliant and tested by our 10,000 volunteers' to ensure the highest quality and ease of use
This St John Kit is ideal and comprehensive enough for your office, warehouse or onsite location.
Therapeutic Goods Authority approved ensuring the highest quality

Developed in line with the WHS Code of Practice

Available in inner quantities of 1 for wholesale customers, with a shelf life of 1-3 years

Dimensions: 360mm x 310mm x 190mm
Contents
1 St John Bag Resealable Plastic Small
1 St John Bag Resealable Plastic Medium
1 St John Bag Resealable Plastic Large
3 St John Bandage Conforming 5cm
3 St John Bandage Conforming 7.5cm
1 St John Bandage Compression 10cm
2 St John Bandage Triangular 110cm
1 St John Blanket Emergency Accident
1 St John Cold Pack Instant
1 St John Dressing Combine 10cm x 20cm
1 St John Dressing Non-Adherent 10cm x 10cm
3 St John Dressing Non-Adherent 7.5cm x 10cm
6 St John Dressing Non-Adherent 5cm x 5cm
1 St John Dressing Wound No. 14
1 St John Dressing Wound No. 15
5 St John Gloves Nitrile Large 2s
4 St John Pad Eye
1 St John Pocket Mask CPR
1 St John Strips Adhesive Plastic 50s
5 St John Swabs Gauze 7.5cm x 7.5cm 5s
1 St John Tape Hypoallergenic 2.5cm x 9m
1 Forceps Sharp Stainless Steel 12.5cm
1 Pins Safety Assorted 12s
2 Probes Splinter 5s
5 Sachet Burnaid 3.5g
8 Saline Eye and Wound Irrigation 15mL
1 Scissors Sharp-Blunt Stainless Steel 12.5cm
10 Swabs Povidone-Iodine
10 Wipes Antiseptic
1 St John Emergency First Aid A Quick Guide
1 St John Notepad and Pencil
1 Pen Ballpoint Black
Product is entered in the ARTG, ARTG 316822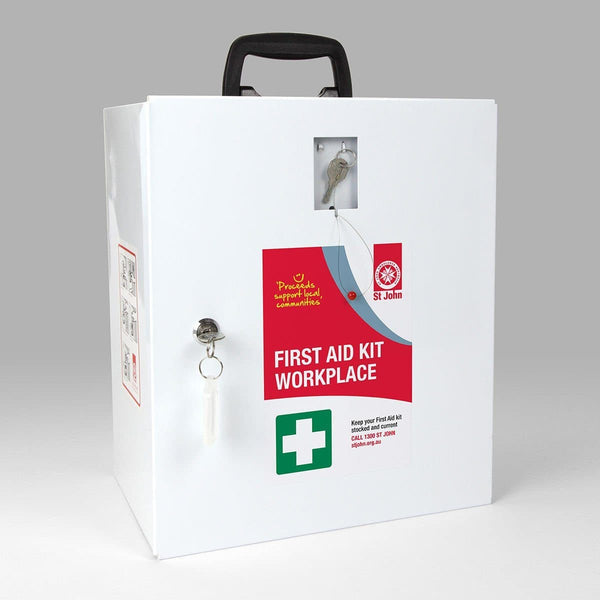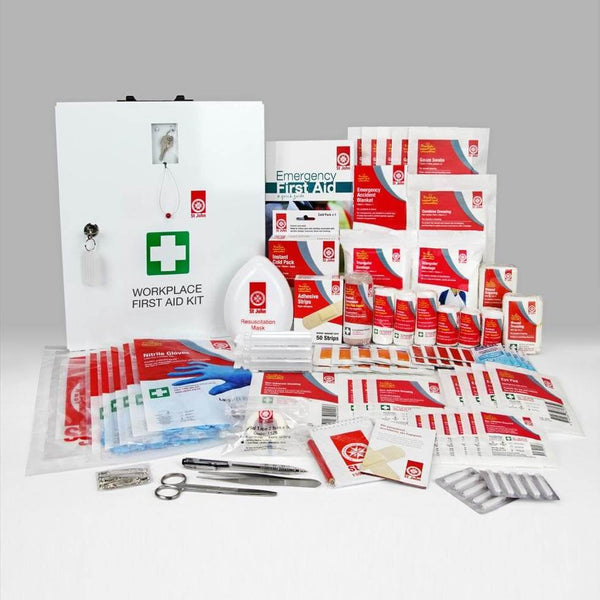 Customer Reviews
Write a Review
Ask a Question
19 Jun 2020
Anonymous

Australia
I recommend this product
Workplace First aid kit
Good unit, sent and received quickly